NZ CH HILLANI TRANSLANTIC SILVASTAR [Imp Aust.]      DOB 17/10/2008
S. AM CH Aery's Gone A.W.O.L. [USA] x D. Hillani Silversigne
PRA Clear [by parentage] Cruffs Qualifier   Bronze and Silver Certificate holder
Star is a very confident silver girl who has had In Group and In Show awards.
Thank you to Janet at Hillani kennels for letting her come over here.
Mr M Gadsby's [Afterglow Kennels UK.]  Critique
Top quality silver bitch,lovely head and expression, lovely pigmentation, super coat quality,perfect proportions,leggy short backed,lovely tail set, she's got super bone and feet, front angulation is very good, she could perhaps a little bit more definition of second thigh, moves beautifully up and down and around, got a super carriage, just a  Beautiful poodle [Best Open in show]
…..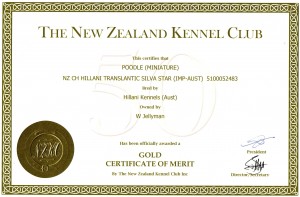 .                                                              GS AM CH Kalista-Kamann Silver Streak [USA]
s  AM CH Aery's Gone A.W.O.L.[USA]
.                                                               GD AM CH G.I. Jane[USA]
.                                                                GS   Hillani Silva Onthe  Run
D Hillani Silversigne
.                                                                 GD  Hillani Sivler Delux